If your passion is everything herbs, you will want to bookmark the www.herbsdottir.com website. I've spent more than 15 years delving into the wonders of this branch of the plant kingdom.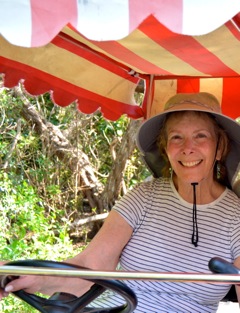 There's so much I'd like to share with you.
Go to "Speaker Talks" to find an inviting presentation for your club, group or company.
My 'Books' cover a variety of intriguing and helpful plant-related subjects.
Check out the 'Herb Traveler' articles for ideas in planning your own plant expeditions.
There are easy guides to help expand your understanding of these useful plants.
Frequently Asked Questions: What is an herb?
What are the 5 most commonly asked questions about herb gardening?
Which are the user-friendly fresh herbs to add to your cooking repertoire?
What remedy herbs can you grow in your backyard?
How to evaluate herbal teas for taste and benefits?
How do folks in every country use herbs for food, clothing, shelter and medicine?
There's information on garden folklore, holidays and herbs, a look at herbal history and herbal diversity.
Organic recipes, unique crafts, and herbal remedies are but a few of the forthcoming topics.
Go to the 'Herb Lover's Forum' and get in on the discussion! (coming soon)
Contact me with comments or questions by email at herbsdottir@comcast.net.
Looking forward to our dialogue…
Norma Weinberg aka "herbsdottir"